Hi Worm Brothers,
I was reading the history of normalnonoobs.com and realized what a profound impact retired members of the past have made on the Worms Armageddon community. But those legends are gone now and a new group of us is here, standing on the shoulders of those giants.
With the number of WA players dwindling, I think it's time for the new NNN to revamp and revitalize the Worms Armageddon community!
Let's make worms great again!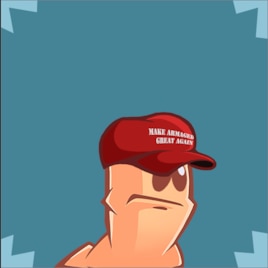 Here is my vision:

1. New goal of normalnonoobs.com = get players to sign-up
a. WHY? Because WA players involved in a league and community are much more likely to stick with WA. Ranked games are more important than funners, and more fun. Ranked games track progress, a deep human need. Tournaments get people excited!
i. I think a good way to hook a potential newcomer is to compliment them on certain moves they make and talk about our community of similar players that will help them to get better.
b. A problem : I play new players everyday that are good, but have never heard of normalnonoobs.com or tus-wa.com or CWTsite.com. I think if they had, they would be more invested and stick around longer with Worms Armageddon.
2. How?
a. We need to make it a rule of each normalnonoobs.com player to seek out and invite new players to the league. Pavel has been doing a good job at this. A good goal would be to have at least 15 active players by the end of this season.
b. A wheat snooper account always logged in named : 'Sign-Up-ONL or 'ONL-Tryouts
i. 'Sign-Up-ONL away message, "Hi there! We are glad you are interested in joining the normalnonoobs.com league. We have several active players, ranked seasonal matches, tips & tricks, play-offs, tournaments and more! It's a lot of fun. Check it out at normalnonoobs.com/newcomer
ii. 'ONL-Tryouts, "Hi there! If you would like to join an awesome WA community, play in tournaments and ranked games, start sharpening your intermediate scheme skills! We host tryouts every Saturday at 4 pm EST. Learn more at normalnonoobs.com/tryouts" – This would require someone to admin the try-outs and the goal would be to get everyone to join.
c. We should give a .gif reward to a players profile anytime they get a new player to join the site and that player is active for 1 season. As part of the sign-up process we would ask users how they heard of normalnonoobs.com
d. Simplifying the sign-up process.
i. Right now it is a tiny font "new here?". That is hard to see and not very catchy. New here? Could take the place of where home is located on the top navigation with a fun image of a smiling worm to be more inviting. Then when they click it we need a better landing page. A tiny "rules" link is what we have now, it is outdated.
1. The current newcomers page has a huge block of strike-out text and then a story about our history which I doubt anyone reads.
2. The history is important, but let's just put a link to it. All of that text can be intimidating to a new player. Let's give them the essentials of what they need to get started.
a. Sign-up
b. Quick Rules: Which I'd like to review these with you and simplify them too.
c. Have fun!
e. Maybe one of us could make a short 3-minute video inviting them to sign-up
3. Marketing
i. We can spend time online in other worms games or knock-off games like worms and recruit players to try Worms Armageddon instead. In a sense we would be saving them from the monotony of other games in this genre as they are all vastly inferior to Worms Armageddon.
ii. We leave positive reviews and promote the game in steam, facebook, twitter, anywhere people are talking about or playing other worms games or games similar to Worms Armageddon.
Gentleman, Worms Armageddon is the greatest game of all time. It is up to us to save it, to keep the online community active, so that it will still be here in 50 years and our grandchildren can enjoy it.
Let me know If you'd like me to help re-design these aspects on the website, I have some web development skills.
Best,
lovEvil
PS. If you didn't know there is a limited time Worms T-shirt for sale, I ordered and can't wait to get mine.
https://sevensqua.red/collections/chari ... ow-edition